23aug(aug 23)6:00 am03sep(sep 3)12:00 amMinnesota State FairThe Great Minnesota Get Together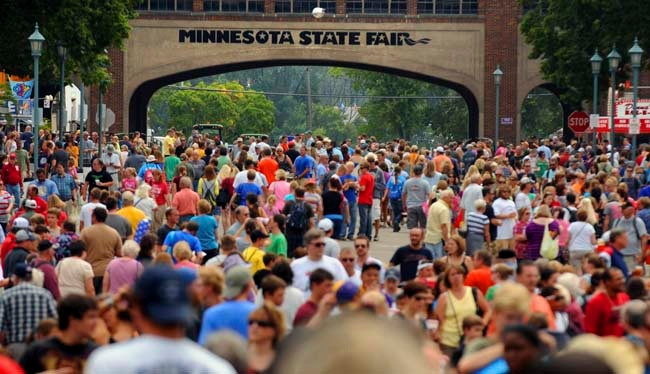 Event Details

What began in 1854 as a territorial fair to highlight agriculture and encourage farming in the region became the Minnesota State Fair in 1859, a year after Minnesota was granted statehood. Learn more about the State Fair's rich history.

Today, often referred to as the "Great Minnesota Get-Together," the annual Minnesota State Fair is one of the most popular tourist destinations in the region. The fair attracts nearly 2 million guests annually. See attendance figures.

This end-of-summer tradition is always held the 12 days leading up to and through Labor Day. The 2018 Minnesota State Fair runs Aug. 23 – Sept. 3.

The fair employs nearly 80 year-round full-time staff members. During the summer, about 400 seasonal staff are added. More than 3,000 people are hired as fair-time staff members. Learn more about fair-time employment.

Located mid-way between Minneapolis and St. Paul, the 322-acre Minnesota State Fairgrounds is renowned for its beautiful gardens and architecture reflecting the art deco and Works Progress Administration eras.

Hundreds of events are held on the fairgrounds throughout the year during the non-fair time, including horse and livestock competitions, merchandise sales, expositions, car shows and more. View a calendar of events.

The Minnesota State Fair is a recipient of a 2013-14 BBB Torch Award for Ethics. The Better Business Bureau of Minnesota and North Dakota presents the award annually to companies that display exemplary levels of ethics, customer service and integrity in all aspects of their operations.
Time

August 23 (Monday) 6:00 am - September 3 (Friday) 12:00 am