SAINT PAUL CITYGUIDE an Interactive Online Environment. The Amazing & Dynamic Digital Voice of the City.
The Saint Paul CityGuide has owned the streets of this fine capital city for over three decades. We always present informative news, exciting links, bold photographs, amazing stories, and our sponsors and advertisers are offered a dynamic platform to deliver their advertising message online. Now we are back bigger, better, and stronger than ever before! Our new brand is bold, interactive, and programmed to be a true living environment. The CityGuide is built with powerful communication tools and integrates hi-end digital design, social network feeds, fresh content and powerful advertising programs. We offer our advertisers effective marketing services that present their campaigns online. With our proprietary SEO strategy, PPC campaigns, and constant advertising we are able to reach millions of viewers daily.
The Saint Paul CityGuide has just added more value with our NEW dynamic and bold brand. We offer unique categories, exciting news & events, interactive maps, creative ads, and our NEW 'Discovery section that focuses on niche specific markets.  For over three decades of focus on the city of Saint Paul we are dedicated to present the best attractions, fine dining, restaurants, museums, parks, entertainment, bars & clubs, business, news, transportation, and other discoveries this fine city has to offer. We have expanded our site to include social media feeds, online shopping, and more  advertising options that reach our local markets and businesses. If you need to sell your products or services online our marketing and design team can help you implement an e-commerce solution or assist you with campaign creation.
We are your on-line "Living Environment" and are constantly growing. Time to say thanks to our sponsors, advertisers, businesses, continued visitors, and those who send us exciting information to post to our dynamic social media platform. We welcome you to be a part of our online living environment. This is Saint Paul history in the making!
About CityGuide
Designed by Saint Paul natives. Our CityGuide is an amazing and powerful resource in operation for over three decades! This new and improved on-line resource grabs the best of the city and suburbs for you to see and enjoy. We are constantly improving the CityGuide to make it the best resource for visitors and a proud site for Saint Paul.
The colors in the new CityGuide logo design each reflect one major city category. The gold center in the middle symbolizes the city surrounded by the colored rays reaching outward all presenting a logo of excitement, discoveries, and adventure.
Our Mission
Our mission is to deliver a dynamic, innovative, and interactive city guide for Saint Paul. This modern online environment will focus on presenting exciting news, informative links, creative visuals, and unique places to visit and discover in this capital city. The CityGuide is dedicated to providing our sponsors and advertisers an affordable platform to present their story, message, service, and products.
Our designers, publishers, and programmers are proud to offer our visitors exciting content from the best city on Earth. Saint Paul, MN.
saint-paul.com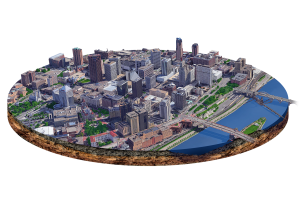 Contact Us
If you have any questions, comments or would like to submit some news feel free to contact us below. The Saint Paul CityGuide now offers affordable advertising options for you to choose from. Submit your option or Call us today. We look forward to be your digital voice of Saint Paul.